Serve Locally
Backpack Blessing Meals
Please help us feed hungry kids in our neighborhood! Schools are a vital resource in providing nourishing foods to the children of families who struggle to have enough to eat. Unfortunately, the weekend away from the school cafeteria results in hungry kids at home. We have teamed up with Greenbriar East Elementary School to help cover this gap.
The pre-assembled bags we deliver to GBE will contain six meals and two snacks designed to provide nutrition over the weekend for at risk kids. These are individually packaged, shelf-stable, kid-friendly foods that require no preparation. Kids can just "open and eat" or easily heat in a microwave (parents may work on the weekend and the children need to be self sufficient.) We will add fresh fruit where possible. Space and weight limitations prohibit us from sending whole boxes and large cans of products. The school will distribute the bags each Friday to those who have been identified at risk.
Products are packaged in a variety of quantities so any amount over the two dozen you provide will be put to use! This effort will provide food for these kids for an entire month.

Thank you so much for blessing others in our community!
Here is a list of foods we need this month. Please refer to the sign-up for quantities.
instant oatmeal packets
single-serving boxes of cereal
individual shelf-stable milk boxes
single-serve mac & cheese packets
single-serve meals (any flavor) such as Chef Boyardee, Dinty Moore, Hormel Compleats or Seeds of Change
Ramen noodle soup packets
tuna or chicken salad kits (e.g. Bumble Bee Sensations or Snack on the Run) OR Starkist tuna pouches or Lunch-to-Go packets
fruit cups (any variety except applesauce) OR applesauce squeeze pouches
granola or cereal bars
peanut butter or cheese crackers
individual packages of nuts, seeds or pretzels
individual snack mixes or popcorn
If you won't have a chance to shop but can help with a monetary donation, please make your check payable to Pender UMW with "Blessing in a Backpack" in the memo line and turn it in to the office or Sunday collection.
Thank you!
For I was hungry and you gave me something to eat, I was thirsty and you gave me something to drink, I was a stranger and you invited me in… Truly I tell you,whatever you did for one of the least of these brothers and sisters of mine, you did for me.
Matthew 25:35, 40b
Blessing Box
Pender has a new Blessing Box
at the end of the driveway near the lower parking lot.
When you're near Pender, please pay it forward and share a few groceries with those in need.
There is no lock on it- it's open 24 hours a day, 7 days a week.
"Take what you need.
Leave what you can.
Little becomes much
In the Master's hand."
Hebrews 13:16: "Do not neglect to do good and to share what you have, for such sacrifices are pleasing to God."
Food Donations
WFCM Donations:
Instant Mashed Potatoes
Diced Tomatoes
Canned Fruit
Canned Corn
Vegetable Oil
Sugar & Flour (1 lb. bags)
Tomato Sauce
Boxed Pasta
Shampoo/Conditioner
Soap
Deodorant
Toothpaste
Feminine Pads
Diapers (size 6 most needed)
JDC Worship
Both at the county and state levels, Pender members reach out to these troubled young people. We go behind the walls and meet face-to-face with them. We hear their stories. And we tell them ours. We talk about what Christ has done for us. And what He can do for them, if they let Him inside -- past their walls and their rough exteriors and their fear and their shame and their pride and their arrogance -- deep inside their hearts.Join us in worship with the young men and women at the Fairfax County Juvenile Detention Center. Your participation matters to the residents, as the staff repeatedly tells us how we make a difference in the young men's and women's lives and the lives of the staff!

All you need to do is show up and worship! We meet at 1:00pm at the Juvenile Detention Center. Hope to see you there!
On the fourth Sunday of each month Pender ministers to the youth lodged in the Fairfax County Juvenile Detention Center (JDC) through a program of Sunday afternoon worship. The JDC serves young men and women, ages 10 – 17. These young men and women are held before trial, and in some cases, after trial in the Juvenile and Domestic Relations District Court. The JDC also holds juveniles while awaiting transportation to the State Department of Juvenile Justice or other programs. Their offenses run the gambit from delinquent offenders with minor criminal records to youth charged with major crimes. Pender members join with these youth in worship including contemporary Christian music, a message, and prayer. Every fourth Sunday, we meet at the Center at 1 PM and are finished by 2:30 PM.
Reaching Out to Share Christ's Love with Our Troubled Neighbors
They live in our neighborhoods, across our state. They look like kids we know. They look like kids our own kids hang out with. Some of them probably are. Some portion of their young lives has been spent living behind bars – incarcerated for criminal actions. For a great many of them, their young lives have been marred by violence that they've perpetrated, or that's been brought upon them. For some, it's both.
The young people behind the walls and the impact-resistant glass have made bad choices and big mistakes. They've gotten involved with the wrong friends, the wrong lovers, been in the wrong places at the wrong times. And done wrong things.
More than 2.5 million juveniles are arrested every year in America and 70% of juveniles convicted of crimes go on to commit crimes again.
94% of incarcerated youth have never had one single positive adult male role model.
84% of the boys who become serious juvenile offenders have parents with criminal records.
These young people are more than just statistics. They're more than just names on a court docket. And they're more than just faces we'd rather look away from.
Sometimes they make people uncomfortable with their clothes and their language and their music. Sometimes it's easier to turn away from them than to serve them. But this is our world. And these, the least of these, are our collective responsibility.
Welcome to our mission field.;
At Pender, we sincerely believe that Jesus Christ has a special place in His heart for these young people – the least, the last, the lost, the lonely.
As Christ's hands and feet, we believe it's our mission to demonstrate God's redeeming Grace to young men and women who may have never heard the story of salvation before.
Hypothermia Center
"If anyone has material possessions and sees his brother in need but has no pity on him, how can the love of God be in him? Dear children, let us not love with words or tongue but with actions and in truth." 1 John 3:17-18

Pender hypothermia working with Fairfax FACETS is a life-saving effort by local faith-based communities to serve those experiencing homelessness in Fairfax County and encourage guests to take steps towards self-sufficiency and stability as much as possible.
You can contact Jim Salcewicz.
We need volunteers as: greeters, meal preparers/servers/clean-up, overnight security, van drivers, and laundry care. Donations of specific food items, toiletries, gently used winter clothing (adult), monetary donations are also greatly appreciated.
We would love to have you support our Pender Hypothermia Program. Come experience the joy of serving our homeless neighbors.
How Can I Help?
Pray

Pray for Ministry & our Volunteers

Pray for our Guests

Pray for how you can use your talents to help
Donate

Hygiene bags (toothbrush, toothpaste, shampoo)
Backpacks
Gloves
Cold weather hats
Socks & underwear
8 cases of water

4 jugs/pods of laundry detergent
120 white trash bags
16 Lysol wipe containers
8 large bottles of hand sanitizer
trial size shampoos & soap
towels and washcloths for showering
DVD movies
magazines
puzzles
playing cards
coloring books, crayons and markers.
Volunteer

Different shifts available
Training available at Pender
"For I was hungry and you gave me something to eat, I was thirsty and you gave me something to drink, I was a stranger and you invited me in, I needed clothes and you clothed me, I was sick and you looked after me, I was in prison and you came to visit me.
Then the righteous will answer him, 'Lord, when did we see you hungry and feed you, or thirsty and give you something to drink? When did we see you a stranger and invite you in, or needing clothes and clothe you?
When did we see you sick or in prison and go to visit you?
The King will reply, 'I tell you the truth, whatever you did for one of the least of these brothers of mine, you did for me"
~ Matthew 25:35-40
Please consider supporting this effort by volunteering your time.
Operation Christmas Child
Share the love of Christ throughout the world by participating in Operation Christmas Child this year!
The American Heritage Girls collect items to pack in shoe boxes. Items needed include small toys, school supplies, hygiene items, T-shirts, socks, accessories, and donations for shipping. Please drop donations in the Christmas box near the coat racks in November.
Pack a shoebox or two with your family, Bible study or small group. Look for information at the OCC display in the Narthex. Filled boxes are due to Pender in November.
Pray that God will direct each person packing shoeboxes to put in just the right items for the child who will receive the box. Pray also that the children will receive Christ as their best gift.
Donations for shipping are needed as each box costs $9 to ship. Checks should be made out to Pender UMC, with OCC in the memo. Donations may also be made online.
Help receive packed shoeboxes from the community
​
Military Appreciation Night
What a great opportunity to get out in the community and fellowship together and make new friends!
Military Ministry
This fall Pender's military ministry is partnering with the prayer shawl ministry to collect hand crafted neck scarves and hats for Operation Gratitude. these items will be distributed to military service members who are deployed overseas via care packages sent out in late November.
A collection bin will be available under the church portico during the last two weeks of October. please donate items by October 31st.
For the scarves, you can use any pattern that you like. Scarves should be 4 - 6 inches wide and 48-50 inches long.
For hats, you can use any pattern, keeping in mind that the circumference should be 21 -23 inches in measurement.
Please use soft yarn that is machine washable.
Yarn colors - please use blues, browns, greens, grays, maroon or black More subtle shades go better with uniforms as opposed to bright hues.
Feel free to attach a tag with your email address on it, in case the recipient wants to send a note of thanks.
God bless you for honoring and remembering our military.
Any questions, please contact Kay Creel.
Pender Partners
The mission of Pender Partners is to meet the needs of the community by partnering together to teach, serve, and love the community.
We will do this by…
Teach: We hope that by offering classes for people there will be knowledge gained and then that will help them in their future. We also hope that through what we do, we teach others about the love of Jesus.
Serve: We will offer classes and opportunities for people in the community such as computer skills classes, Legal Aid, career skills classes, Spanish classes, ESL classes, etc.
Love: In all we do, we hope to be an example of Christ's love to all people. We hope that those we work with will see the love of God through this ministry.
Career Skills Café:
ARE YOU LOOKING FOR A NEW JOB?
Pender has a new FREE Career and Skills Cafe ready to help people create job resumes, apply for jobs, search jobs they qualify for and get interview coaching,
We can help you open an email account, explore jobs and apply for them online with our computers.
You can learn or expand your computer skills with FREE guided computer training in our computer skills cafe
Sessions are on Saturdays by appointment. Email or call 703-278-8012 for an appointment.
For more information, contact Stan Kurzeja, Sally Lyberger or Anita Meslie.
¡Hablemos español!
Let's speak Spanish! Have fun learning Spanish right here at Pender. Classes are held on Tuesday evenings. Email Margie Koller to join us.
Prayer Shawls
The Prayer Shawl Ministry creates shawls, lap afghans, scarves and other handmade items which are then given to people in need of prayers and comfort.
Beginning knitters and crocheters are welcome!
Contact Sue LeStrange for more information.
Sanctity of Life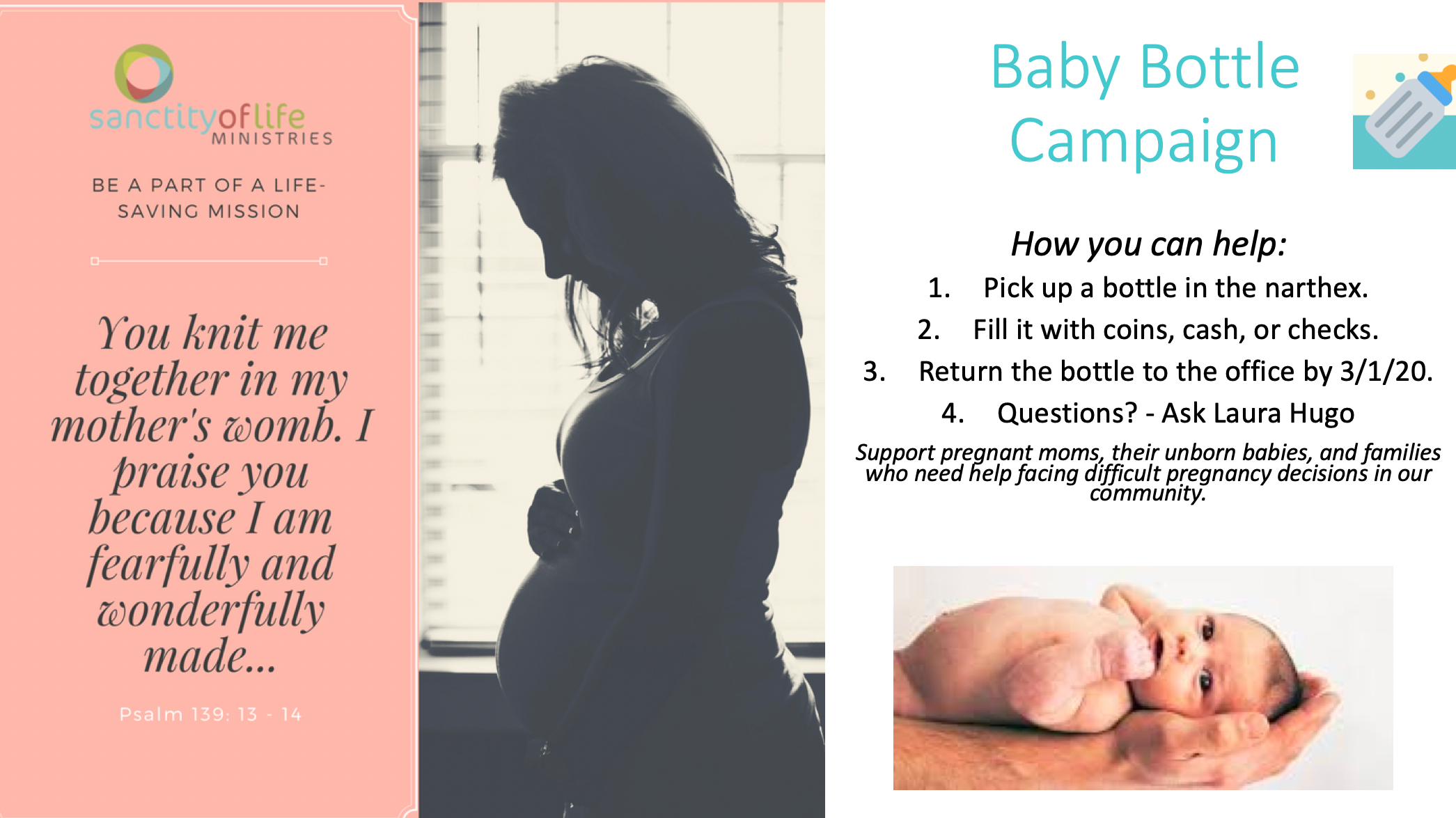 School Supplies

Pender is collecting School Supplies and Food Pantry items for Greenbriar East Elementary School and WFCM. During the pandemic, many families are experiencing food shortages and cannot afford to buy needed supplies for the beginning of school.
Please see the lists of needed items below, and consider adding a few things to your back to school shopping or grocery store visit this week?
Donated items can be placed in the bins outside the main church doors no later than Sunday, September 6.
If you have questions, or would like someone to come pick up your donation from your home, please contact Ann Hines.
School Supplies:
Crayons (basic colors, 24 count)
Pencils (basic yellow, Ticonderoga or comparable brand)
Plastic Pocket Folders (any colors, no metal brads)
Soft Pencil Pouches
Hard Pencil Boxes
Black Pens
Ear Buds (not wireless)