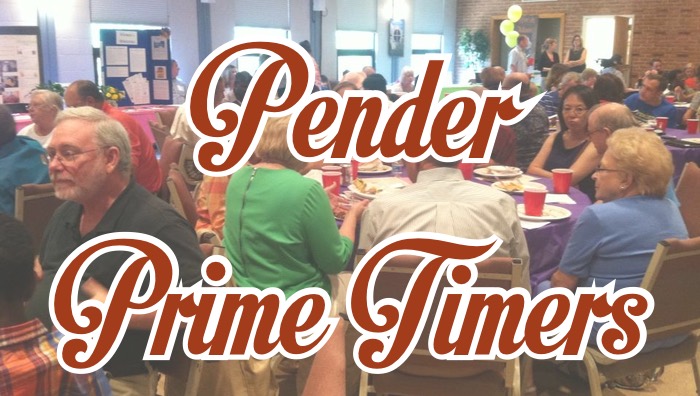 The Prime Timers are recently-and-not-so-recently-retired-aged folks, though anyone can join in the fun! We generally meet every month to share a meal or activity.
---
March 14, 2020
Hello Prime Timers,
We hope this finds you well. We thought to reach out to say hello to everyone and to touch base. For the next few weeks at a minimum, we will be all-out-of-sorts from our normal. Although we are not planning any meetings or events for our group in the near term, we did want you to know we are thinking of you and praying you and your families stay their healthiest. The Juliets will not meet for lunch this month. Pender will not be holding services for the next two Sundays so please go to Pender's website to listen to the message from Pastor Marg instead.
There are a lot of things in the press and online (here is a great resource from Harvard Medical School) about the coronavirus with a couple of points we think bear repeating. Recommendations for those who are 60 years old and older or who have a compromised immune system are to stay home as much as possible. The Center for Disease Control also has a comprehensive website that addresses many of the issues and concerns surrounding the coronavirus. You can access that site here.
Soap and water are really the best for hand washing; hand sanitizer is the backup when that is not available. If you didn't think to stock up on the sanitizer until it became impossible to find, no worries, use that good ole soap and elbow grease - often (and use a paper towel to dry your hands and then cover the knob when leaving the bathroom). And don't touch your face!
When you go to the grocery store next, stock up on some extra groceries. This will help keep needed trips to the grocery to a minimum. Fresh produce that has a longer shelf life include root vegetables such as potatoes, sweet potatoes, carrots, onions etc. (Store the potatoes and onions in a dark place but not in the same bin, carrots in the fridge.) Citrus fruit and apples also have a longer shelf life. Dried products like pasta and beans, and canned foods that you enjoy are also good to have stocked. A go-to favorite is most any frozen vegetable or fruit. They retain their nutrition after processing and can be kept for many months. There are a number of delivery grocery services that can bring groceries to you if you need to stay out of the community space. If you have difficulty in obtaining the food and products you need, please reach out to us.
What to do in the meantime when you are stuck at home more than normal? Spring clean! As far as we know now, the UMW Spring Boutique will proceed as scheduled on April 24-25. Go through your kitchen and closets, garages and basements pulling any gently used items for this annual fundraiser. Donations will be accepted starting on Sunday, April 19.
One other activity to consider please is to send a card or note to the homebound or those in a nursing home or rehab center. Most centers now prohibit visitors. Four very dear ladies are listed below. I don't think it really matters if you know them well or not, just let them know you attend Pender and are thinking of them. If there are others you feel would benefit from a friendly card, please do let us know.
Here are their addresses:
Beryl Marin
Fairfax Nursing & Rehab Center Rm 100
10701 Main Street
Fairfax, VA 22030
Delia Sales
13430 Coppermine Rd. #115
Herndon, VA 20171
Nancy Jordan
4409 Fair Stone Dr #101
Fairfax, VA 22033
Margaret Ayling
9642 Burke Lake Road #135
Burke, VA 22015
Finally, keep counting your blessings and looking for the good. This trying time will pass.
Grace and peace,
Becky and Cheryl
P.S. Here is some information from online resources for your reading enjoyment.
The main points to consider from the CDC for everyday preventive actions:
o Clean your hands often
o Wash your hands often with soap and water for at least 20 seconds, especially after blowing your nose, coughing, or sneezing, or having been in a public place.
o If soap and water are not available, use a hand sanitizer that contains at least 60% alcohol.
o To the extent possible, avoid touching high-touch surfaces in public places – elevator buttons, door handles, handrails, handshaking with people, etc. Use a tissue or your sleeve to cover your hand or finger if you must touch something.
o Wash your hands after touching surfaces in public places.
o Avoid touching your face, nose, eyes, etc.
o Clean and disinfect your home to remove germs: practice routine cleaning of frequently touched surfaces (for example: tables, doorknobs, light switches, handles, desks, toilets, faucets, sinks & cell phones)
o Avoid crowds, especially in poorly ventilated spaces. Your risk of exposure to respiratory viruses like COVID-19 may increase in crowded, closed-in settings with little air circulation if there are people in the crowd who are sick.
o Avoid all non-essential travel including plane trips, and especially avoid embarking on cruise ships.
Don't forget to check your supply of prescription medications.
One other item to share: there are a number of reports of scams and price gouging out there. Fairfax County Government put out this email today. Their main points:
As the coronavirus public health emergency continues, scam artists are taking advantage the situation. This includes everything selling products that supposedly will prevent, treat or cure the virus to asking for donations to aid people who are sick.
These are some tips and ways to protect yourself from coronavirus scams:
Ignore any offers, online or otherwise, for coronavirus vaccines, prevention, treatment or cure.

Be wary of an email that claims to be from the U.S. Center of Disease Control or the World Health Organization. Visit these two organizations websites directly to get the latest information.

Do not click on any links from unknown sources. This could lead to downloading a virus on your computer or phone.

Thoroughly research any organizations or charities purporting to be raising funds for victims of the coronavirus.

Look out for "investment opportunities" surrounding the coronavirus.
---
September, 2019
Hello Prime Timers!
Although this email is lengthy, we wanted to be sure you were up to date with the latest-and-greatest happenings and opportunities at Pender.
New Bells Group Forming for the Prime Timers: We are so excited about this! Theresa offered to start a bells group for the Prime Timers crowd! We would meet for practice every week for an hour or so. And before you think you wouldn't be a good fit because you can't read music (no prior experience necessary) , or can't see the music (we can make it BIG), or have a bum shoulder (you can ring small bells or chimes), can't stand for an hour (we have stools) or for any other reason, know that she will be starting from scratch and will teach us everything we need to be successful! At the very least we will have a fun time together. If you are already a bell player, come join us and you can help shepherd the newbies! Theresa has a number of days and times available. If you are interested (and we hope you are), let Cheryl know your preference on day: Monday, Wednesday or Thursday. The time slot will be for an hour sometime between 10am and 2pm or so. We'll fine-tune the time with those interested in joining.
GBE Volunteer Opportunity: We are also excited about this! Last year the Backpack Blessings program with Greenbriar East was a huge success, and the school was so appreciative. We would like to take an additional step to support that community by providing volunteers as reading buddies to the young students, or assistance with teacher needs such as copying papers, laminating items, prepping projects, etc. Cheryl is meeting with the principal and counselors on August 13 along with Catharine, Ann and Jami. Please, please, please be in prayer for this meeting and be open to ways that you might participate. Becoming a mentor is an amazing way to show God's love and make an incredible difference in the life of a child! More details on the opportunities to follow, but if you'd like to tentatively throw your name in as a volunteer, email Cheryl
Visitation / Smiles on Wheels (or Via Phone or Card!): Do you know someone who might enjoy a visit, phone call or card to brighten their day or provide encouragement? We would like to do just that - let us know if someone you know might benefit. We'll take it from there. And if YOU would like a visit, or to join our group of encouragers and prayer partners, let us know that too.
We look forward to seeing you around Pender!
Blessings,
Becky and Cheryl