November 07, 2019

|

God Moments

by

Joyce Munt
"You make known to me the path of life; you will fill me with joy in your presence, with eternal pleasures at your right hand." (Psalm 16:11)
Calling all congregants!
Please send your "God moments" (where you see God working in our midst here at Pender) to
Joyce Munt
in the Church Office. We will share these moments each week, so we can joyfully celebrate together what God is doing here at Pender!
God moments from the week of November 7, 2019
A joyful time was experienced by all as our Wesley Choir (1st through 6th graders) and a group of multi-generational handbell players shared their gifts and talents with our 9:30 Contemporary Service last Sunday. As the children sang and rang, everyone was smiling and there was so much positive energy in the room that other children in the congregation were seen dancing, clapping and singing along (as well as the adults)! "Let them praise his name with dancing and make music to him with timbrel and harp." (Psalm 149:3)
And to make us smile even brighter, a brand new Pender baby was brought to worship for the very first time! The last time this precious child was there, he was worshipping in his momma's belly, while she raised her hands to the Lord, only days before he came into this world! "Every good and perfect gift is from above, coming down from the Father of the heavenly lights…" (James 1:17)
---
God moments from the week of October 31, 2019
We were so blessed to unite in one service last Sunday and to have the opportunity to listen to Pastor Marg preach for the very first time here at Pender.
One of our Pender members shared that the words Pastor Marg spoke during her sermon has had a lasting impact. She's been thinking about "sandcastles" in her life all week and the need to let them go. This has been quite a comfort to her.
---
God moments from the week of October 24, 2019
"The Lord will keep you from all harm—he will watch over your life; the Lord will watch over your coming and going both now and forevermore." (Psalm 21:7-8)
It had been years since one of our members had flown on an airplane, but it was clear that the Lord was watching over her every step of the way. So many changes since she'd flown, and yet God's angels were everywhere…the nice person who showed up and helped her with her tickets, the couple who helped lead her to where she needed to go, and the one who carried her suitcase! Arriving safely at her destination, she enjoyed a wonderful time with family members, especially the little 18-month-old who kept the entire family laughing and entertained. After a fun-filled weekend, driving back home as planned with her best friend, they were incredibly thankful for the sight of a HUGE, brand NEW sign clearly guiding them in the right direction home! One more "holy hug" occurred when these two friends saw an entire, brilliant rainbow filling the sky. Squeals of laughter filled the car at God's reminder that He truly is with us wherever we go!
Nothing more precious than to hear God's word read so clearly and perfectly by an eight-year-old during our 9:30 service last Sunday. When this same child was only 4 years old, the same service was blessed when she recited by heart the ENTIRE Christmas story, while being held up by her momma so the congregation could see her! "Train up a child in the way he (she) should go…" (Proverbs 22:6)

Have you noticed the new messages posted every week by one of our members on the bulletin board in the kitchen (who actually asks God for His idea). Stop by the kitchen for a blessing and share it with others!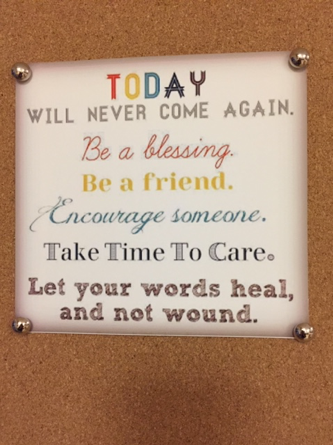 ---
God moments from the week of October 17, 2019
One of our long-term members was pleased to hear from his daughter that the results of her recent stress test indicated a miraculous healing in which the doctor expressed it was as if she had NEVER had a heart attack! "I will praise you, Lord my God, with all my heart; I will glorify your name forever." (Psalm 86:12)


The weather was dreary, cloudy and raining until my friend picked me up to attend the Chris Atwood Foundation, Heroes for Hope, Fundraiser. The sky cleared and the sun burst forth, lighting up all of the beautiful fall colored leaves on the trees lining the road. But that was only part of the show! As we turned the corner, the most beautiful rainbow-colored the sky from one side to the other, leading us ALL the way to the event. "The heavens declare the glory of God; the skies proclaim the work of his hands." (Psalm 19:1) Hearing all of the stories and the impact Mark and Ginny Atwood (members of Pender) have made in our community and elsewhere since the death of their son/brother, Chris, to a drug overdose, made me reflect on the similarity of what we had just seen in the sky. They have taken what was clearly the most dark and dreary time of their lives and turned it into a spectacular display of God's love and hope as they and others in their organization continue to work tirelessly to help save lives and bring awareness to substance addiction disorder and the impact on our community. (If you would like more information about this organization and/or to make a donation, go to https://www.chrisatwoodfoundation.org/)
---
God moments from the week of October 10, 2019
The Staff was blessed by our Youth Group parents this week with a nice lunch left over from the youth dinner on Sunday -- fried chicken and macaroni and cheese (real comfort food). While eating and enjoying a time of fellowship together as a Staff, a frequent Federal Express delivery person (who we now know by his first name) popped in to deliver a box, with his usual big smile on his face. He excitedly said "YES!" when asked by one of our Staff members if he would like to take some food with him for the road. What a joy for the Staff and such a God moment when his immediate response when he received this gift of food was "the Almighty God will bless you, as you have blessed me!" (We couldn't help but notice that the usual big smile on his face had grown even larger as he bounded out the door.)
Can we help you? The offer came "out of the blue" from two men waiting in the check-out line. Our three carts were loaded to the brim with goods purchased for Western Fairfax Christian Ministries Food Pantry. Gary and Ray, as we later learned their names, walked us to our car and then proceeded to help us load what turned out to be 586 pounds of food! What a gift of time and effort by two strangers with generous hearts! A God moment for sure!
Have you seen the 12 Disciples in our Fellowship Hall? Thanks to our Jesus Loves You (JLU) Youth Group for 4

th

-6

th

graders, this comical rendition of Jesus' faithful 12 were found lurking on our sound booth. What a fun surprise! Stop by and take a look this week!

---
God moments from the week of October 3, 2019
When the body of Christ serves the Lord together, the bonds of the members of our church family and those we serve grow deeper! When one of our beloved Pender members was serving at the Women's Boutique Thrift Sale last week, she noticed some of our shoppers having issues holding their potential purchases, so she began to offer plastic bags to hold their selected items. In the course of doing so, she encountered two ladies and experienced some wonderful God moments:
• One woman seemed a little nervous as she was looking around the tables. After wishing her a good morning, our member asked her if she would like a bag for her items. The offer seemed greatly appreciated and the woman went on to say she had just relocated to South Riding (after the breakup of her engagement) and was looking for some items for her new home. They chatted a bit and within just a few moments she found out the woman was Jewish (but not practicing her faith) and had recently been attending St. Andrews Church with her former fiancee. Later in the day, she would also be receiving some health risk news. Our Pender member gave her one of our newsletters and let her know that she would be praying for her. The woman shared that she was so appreciative of their conversation and commented on how welcoming everyone had been at Pender's boutique sale. Before she left she said that if she decided to go to a new church, it would be Pender UMC!
• Another woman shopper had picked up some yarn that had been donated for the sale. Our Pender member approached her and asked her if she would like a bag, letting the shopper know that she had donated the yarn and that Pender has a group that meets once a month to knit, crochet and fellowship. She was very interested in attending their next meeting so she shared the meeting details and gave her a newsletter, hoping to see her later this month. Although our Pender member was physically tired by the end of the day, she shared it was clear that the Holy Spirit had prompted her to reach out to our shoppers with a greeting and an offer to help; and that we never know when our actions are going to truly touch someone with the grace of God!!
---
God moments from the week of September 26, 2019

"And he took the children in his arms, placed his hands on them and blessed them." (Mark 10:16)
Take time and stop by the fellowship time area near the coat racks this Sunday to see what our Sunday School children created! They truly are an important piece of God's plan and He has a GREAT plan for their lives! Christ loves the little children and so do we here at Pender Aren't children's pictures the best? -- Each one so different, and yet so special, allowing us to see God's world through their eyes.
---
God moments from the week of September 19, 2019
So much energy in the building again – our Pender Hill preschoolers started back to school this month! So much joy, a little anxiety and much hope for a great year can be felt. After dropping her grandchild off downstairs, a grandmother returns to pray in our Sanctuary. What a beautiful sight to see this grandmother quietly sitting in a pew, head bowed, praying to our Lord. "Yet,

Lord

my God, give attention to your servant's prayer and his plea for mercy. Hear the cry and the prayer that your servant is praying in your presence." (2 Chronicles 6:19)


One of our beloved Pender members was asked by her son-in-law if he could receive a Bible from Pender. A Staff member was filled with joy to be able to immediately honor this request by blessing her with a brand new Bible (recently stored in the Church Office) to give to him. This member's face lit up with excitement and astonishment at how quickly this request was filled!


It's so fun to see the many ways God surprises us by His unexpected blessings. One night, one of our beloved Pender members didn't feel like cooking and went out to eat by herself at a local restaurant, one that requires payment first before eating. After standing in line and when it was her turn to pay, she realized that there was a slight deduction off of her bill -- the woman in front of her had gifted her $1. Later, she had the opportunity to thank this woman for her generosity. But that was not all – before she left, another surprise came when the manager of the restaurant ran over to her to give her a $16 restaurant gift card! She could only assume that this gift was from the same sweet woman.
---
God moments from the week of August 22, 2019
During our 9:30 Worship Service, Pastor Catharine always invites the congregants to either pray at the rail near the cross after receiving communion or return to our seats to pray.
This past Sunday, one of our precious (and extra cute) Pender six year olds received communion and then proceeded to skip happily to the rail to kneel to pray, inviting her momma to join her. Her mother shared that she actually does this EVERY week, most often kneeling to pray with her daddy
!
"
But Jesus called the children to him and said, "Let the little children come to me, and do not hinder them, for the kingdom of God belongs to such as these." (Luke 18:16)

One of our Pender members had lunch with a friend this week and found out this friend was helping to resolve some of our AV issues in our Sanctuary. Turns out, this friend has several connections with our Pender family! In addition to being a good friend of this member of our church, her daughter attended our preschool in the past and recently went on our Youth Mission Trip to Philippi, West Virginia!
---
God moments from the week of August 15, 2019
A couple months ago in a devotion shared during a Finance Committee meeting, one of our Pender members heard and was impacted by the words: "Use what you have and be thankful." God has used these words to open her eyes and ears to see God at work at Pender, and she's hoping it will be an encouragement to others. She has seen that He has given at least 5 women the desire to clean and organize the kitchen from the lowest shelves to ceiling tiles. Downstairs at least 3 adults have been sorting and organizing resources for teachers in Room 110. Our Pender youth have been energized with the desire to help Pender and our community (she believes this is the fruit of working together during 3 mission trips this summer!) In addition, a long-time Pender member is loving these "new beginnings" and has signed up to serve at Pender. "Watch for the new thing I am going to do. It is happening already – you can see it now!" (Isaiah 43:19 GNT) Where do you see God working in our midst?
---
God moments from the week of August 8, 2019
"…Be strong and courageous. Do not be afraid; do not be discouraged, for the Lord your God will be with you wherever you go." (Joshua 1:9)
What a comfort it is to know that when we go through tough times, God is with us. Taking time to reflect on how we see God's hand in our lives in the past, helps give us the strength to face the future, especially as we go through tough times.
This week, a beloved member of our congregation shared bits of her life story as she reflected on how clear it was that God had directed her path throughout her life. What others might consider "coincidences" she reflected on the MANY "God moments" and the twists and turns in her life that directed her path and transformed her into the person she has come to be – a great pillar of faith and a joy to all who know her and love her!
---
God moments from the week of August 1, 2019
• One of our Pender Staff members heard from a friend this week that a woman they had been praying for for many years had just accepted Christ as her Lord and Savior and was baptized -- at the age of 82! After hearing God's answer to their intercessory prayer on this woman's behalf, our Staff member's face radiated with great joy and awe over what God had done. "Then Jesus told his disciples a parable to show them that they should always pray and not give up." (Luke 18:1) • A Pender member missing spending quality time with members of our Pender Church family led to the planning of a family game night and potluck last Saturday. One of the attendees shared what a blessing the event was for all in attendance – people from all generations were present. She expressed that one of her most favorite moments was when she looked around and saw how many people had come, as they locked arms together to pray before the meal. A church family is one of God's greatest blessings! • Our Pender youth were powerful witnesses for God this past Sunday at our 11am Worship Service as so many of them shared how they saw God working in their lives through their service to Him and in their ministry to others and each other. Their joy was contagious! "Don't let anyone look down on you because you are young, but set an example for the believers in speech, in conduct, in love, in faith and in purity." (1 Timothy 4:12)
---
God moments from the week of July 25, 2019
· Beloved couple from Pender (who are "young at heart") were eating at a local restaurant when a bad storm blew into the area. They waited out the storm until it was only misting. When they began to leave, a tall couple immediately came over with their umbrellas and proceeded to protect them from the rain until they were able to make it safely into their car. God promises to provide for all our needs –big and small! · What a beautiful reminder of God's love and provision through the giving hearts of Pender United Methodist Church! As you walk into the church building, please take time to look to the right where these beautiful flowers were planted by a member of our church. These plants have been blooming ALL summer long, ever since we received this gift as a thank you to our congregation for providing food for the needy children at Greenbriar East Elementary. May these flowers be a continual reminder to all of us to pray for the needy in our area and to be open to how God can use us at Pender to serve and provide for those in need. "Truly I tell you, whatever you did for one of the least of these brothers and sisters of mine, you did for me." Matthew 25:40
---
God moments from the week of July 18, 2019
Wow! After a couple of unexpected changes in leadership, it was amazing to watch so many Pender people come together last week to prepare for the Philippi mission trip. As the adults and youth gathered last Friday to pack up to go, there was so much joy and positive energy in the Narthex that an eruption of cheering teens was overheard when their beloved Sunday School teacher walked in to join them! Such contagious JOY!
A Pender mom shared that her adult daughter was scheduled for surgery last week, but the surgeon ended up getting sick the night before. Her daughter was offered another surgeon as a possible option -- this doctor was the top doctor in the practice! He performed the surgery, along with a more exploratory procedure than scheduled. This lead to the discovery of further medical issues that had not been diagnosed and he was able to prevent further future complications for her daughter.
Did anyone see the two little children joyfully leaping and skipping into the 11:00 am Worship Service this past Sunday? Thinking this made God smile…as it did their parents walking behind them!
---
God moments from the week of July 11, 2019
So much joy from a Pender member who excitedly called from out of town because she couldn't wait to share her God moments with us!
This Pender member received a phone call on Friday regarding her mother's quickly declining health and the need for the family to come. In spite of a MULTITUDE of airplane issues getting to California, she was so thankful that she was able to get there safely from Virginia; her sister arrived safely from Maine; and her nephew arrived safely from Texas! What a blessing that ALL family members arrived in time to be with her mother in her final hours.
After three days of cleaning out her mother's apartment, she left with a variety of photos and special items that she wanted to ship back to her Virginia home. Gathering up these belongings, they headed to the UPS store and a woman named Monica was literally like an angel on earth to the family, as they watched her carefully, and tenderly pack up all of these precious items for shipping back home. It's amazing how God provides in our times of need.
She finished off her time in California meeting their new little cousin who was just born on June 9th, and attending a family wedding. She expressed that their family had gone from "death, to life, to a wedding." What a special time this family had together celebrating her mother's life, a new addition to their family and the beginning of new love.
"Praise be to the God and Father of our Lord Jesus Christ, who has blessed us in the heavenly realms with every spiritual blessing in Christ." (Ephesians 1:3)
---
God moments from the week of July 4, 2019
One of the adults participating in Pender's short-term mission trip to Poland was injured and there was a possibility that he would have to stay in Poland until he had healed enough to travel back home. (The pastor in Poland was even willing to let him stay as long as needed!) However, prayers were lifted to God on his behalf through the Pender and Polish youth participating in the camp in Poland, as well as back home at Pender and throughout. Everyone was overjoyed to hear that this adult ended up being cleared to fly back home WITH the team -- the youth on the trip and adults were filled with joy and so encouraged by the almost immediate answer to their prayers (and the adult shared that their response made his discomfort almost worth it!) What an impact on their faith -- a real-life reminder of the power and love of our God.

("The prayer of a righteous person is powerful and effective." James 5:16)

The Memory Care Unit residents at Fair Oaks Sunrise Assisted Living were blessed by our Pender mission campers this week who showed up with bright smiles on their faces and joy in their hearts. They gifted them with little bouquets of flowers they had created for each resident. The hands and feet of Christ come in all sizes

! "Children are a heritage from the Lord, offspring a reward from him."

Psalm

127:3.

Three Pender worship services -- one body of Christ. What a joy to come together as one body at our united service this past Sunday!

("But whoever is united with the Lord is one with him in spirit."

1 Corinthians 6:17)
---
God moments from the week of June 27, 2019
Praise and JOY for a wonderful Youth Choir trip this past week! The group teamed up with the Elizabeth River Project in Virginia Beach to create a "living shoreline." Our hard-working group of 8 teens hauled 46 TONS of sand down to the river's edge to lay the ground work (literally) for dune grass planting. Other highlights of the trip include meeting with Ret. Rev. Ellen Comstock to discuss how our faith intersects with the environment, fun times at the beach and an escape room! "

How precious to me are your thoughts, God!

How vast is the sum of them! Were I to count them, they would outnumber the grains of sand..." (Psalm 139:17-18)

Through a "

Reaffirmation of the Marriage Covenant Ceremony" performed by Pastor Catharine last Saturday, a couple who was married 50 years ago at Pender came into town to renew their vows at our altar! "And now these three remain: faith, hope and love. But the greatest of these is love." (1 Corinthians 13:13)
---
God moments from the week of June 20, 2019
One of our Pender members shared that she accidentally hit her mobile phone which called a friend. She then quickly hung up because she hadn't meant to dial her. This friend then texted her, saying

"Did you mean to call me? I actually asked because I was having a moment of deep sadness."

She then immediately called her friend and proceeded to have a wonderful chat. They both agreed that God is good! (All the time!)

"Two are better than one, because they have a good return for their labor: If either of them falls down, one can help the other up. But pity anyone who falls and has no one to help them up..." (Ecclesiastes 4:9-12)

The excitement on the face of a little two year old participating in Communion in our Common Ground service was contagious as he received the communion cracker from one communion server and then immediately ran across the room to another communion server to dip it in the cup. The faith and joy of a child! Might we all have such great joy and excitement?

"Never be lacking in zeal, but keep your spiritual fervor, serving the Lord." (Romans 12:11)

A Federal Express man popped in to deliver a package to our Church Office and on his way out he turned around, smiled and said "God bless you!" What a wonderful response!
---
God moments from the week of June 13, 2019
God's presence in a laundromat?! One of our staff members and her momma ended up at a laundromat this past week after their dryer broke while the whole family was in town for their son's graduation. Walking into the laundromat, she and her momma couldn't help but notice two young ladies holding hands, praying together. Moments later these same ladies asked if they could pray with them and then proceeded to pray the most heartfelt prayers. One of the ladies expressed that her English was not that good, but her prayer was apparently beautiful and according to our Staff member "couldn't have been more perfect for their family," even bringing her momma to tears!
A Pender member who participates in the daily Bible reading challenge from our Bishop shared that while reading scripture he began to think about the number of saints who have gone on before us, who are now in heaven with our Lord and Savior. It occurred to him that his beloved wife can now talk to Moses, Abraham, King David and Jesus! "When we all get to heaven, what a day of rejoicing that will be!"
Pancakes and turkey bacon cooking in the church kitchen smelled so yummy this week! Even better was seeing the proud, smiling faces of our Cooking Class Campers as they sat around the table together eating their recent creations. Future chefs of America? Who knows what God has planned in the future for these great kids!
---
God moments from the week of June 6, 2019
The joy and excitement was so evident when the principal of Greenbriar East Elementary met with our Pastor and two of the leaders of our

Blessings in a Backpack

ministry at a volunteer thank you event held at the school last week. Who was more thrilled -- the principal and counselors because they had seen the positive impact on the children -- or our Pastor and leaders who have seen how our congregation has embraced this ministry in so many wonderful ways? As these leaders and the counselors connected on a deeper level, it was clear that God has even more plans for Pender's partnership with Greenbriar East in the future!
Our "Old School Church Picnic" was impacted by the rainy weather this past Sunday, but our "Plan B" worked out perfectly. The fellowship hall was filled with our Pender people who enjoyed an afternoon of chatting and laughter along with filling our tummies with yummy food created by members of our congregation. The body of Christ enjoying each others' company was a joyful, beautiful sight to behold! And the desserts? Oh my!!
---
God moments from the week of May 30, 2019
Our congregation was truly blessed by the Children's Musical, "Elijah!" this past Sunday. One of our cast members was thrilled to see that his teacher came to worship to see him in the show. After inviting all of his fellow students and teacher, he initially was disappointed when he didn't think anyone came. The look on his face when he saw his teacher was priceless! God bless all teachers, but praise God especially for the love and dedication of this particular teacher who helped to create a memory this boy won't soon forget.
What a joy to see 43 of our preschoolers graduate from our Pender Hill School last Friday! When asked by their teachers what they wanted to be when they grew up, some of their answers included: doctor, mommy, teacher, paleontologist, do important things and be a dad, nature photographer, firefighter, policeman and ninja! These children were given such a great start by our teachers -- they learned a lot all year and were loved on and prayed for by their teachers. Look out Kindergarten -- here they come (and they are ready)!
The Staff and other members of our congregation were blessed to participate in the Fairfax County Police Interfaith Leader Meeting last week. We learned a lot, including the importance of "see something, say something" and that we can text 911 in an emergency! We are so thankful for the officers in our local police department who are working so hard to keep us safe in our community (and a blessing to see they are men and women of faith). Way to go Pender -- we definitely had the MOST people in attendance!
---
God moments from the week of May 23, 2019
Elizabeth Snader, our Director of Children and Youth Ministries, was recently contacted through our website by a family who is moving into our area. This family of five came to visit our preschool and then stopped in to meet Elizabeth. All 3 children left her office with great big smiles on their faces, as they walked out proudly displaying the pictures they had just colored while the adults chatted. (Elizabeth recently added a kid-sized table in her office just for that reason!) All three children are already signed up for our Summer Kids Camps -- a brand new Pender ministry opportunity.
Who knew that our relationship with our Fairfax County Community Outreach Officer, Officer Jacobson, would lead to praying for one of her colleagues! She introduced us to Officer Givens at the recent Military Appreciation Night at Chik-fil-a and this officer ended up in ICU last week (turns out he's also a good friend of one of our Staff members). Praise God -- we were given an update from Officer Jacobson that Officer Givens is out of ICU and she asks for our continued prayers. Officer Jacobson, along with Officer Twombly (who was baptized at our church many years ago), have been instrumental in helping advise us on how to make Pender a safer place for all who enter.
---
God moments from the week of May 16, 2019
We are never too young or too old to serve the Lord and learn something new! What a joy to hear that during the Prayer Shawl Ministry meeting this past weekend, a little boy from our congregation joined the group. One of our prayer shawl knitters, Ken, spent the entire time teaching this young'n how to knit. He's off to a strong start! Ken was so patient and encouraging; and Jacob was enthusiastic and persistent and cheered every time he completed a row! (Our beautiful handmade prayer shawls are prayed over by our knitters/crocheters and are kept in the Church Office -- feel free to stop by and grab one to give to someone going through a tough time.
Our congregation was blessed by seeing and hearing the adult and children's handbell choirs play the offertory hymn TOGETHER this past Sunday at the 11am Service. So wonderful to experience the musical talents of different ages as they used their gifts to lead our congregation in praise and worship of our Lord.

Each of you should use whatever gift you have received to serve others, as faithful stewards of God's grace in its various forms. (1 Peter 4:10)
After the 11am service, ALL 42 shopping bags to be used to fill with food for the needy children at Greenbriar East Elementary were taken (and there were actually more church members who came looking for bags)! On Monday morning, several filled bags had already been returned! Our

Blessings in a Backpack Ministry

continues to give members of our congregation the wonderful opportunity to share the love of Christ to those in need. (Jesus loves the little children!)
TWO geese were spotted in the church parking lot before the early service this past Sunday. Maybe our lonely goose, Gus, has found a new partner??!!
---
God moments from the week of May 9, 2019
Wow! Lots of hands make little work! The unexpected early delivery of brand new furniture that was donated by our United Methodist Women to update our Youth Room arrived on Tuesday morning. Several people (staff members, congregants and even a preschool mom) "just happened" to be here and joined in to help! The youth room was quickly cleared out right before the delivery arrived. The willing hands and feet of Christ coming together on such short notice for a common cause was a wonderful, joyful experience! (And the furniture looks AMAZING!)
We give thanks for the life of Kishore Carey, Pender's very first Common Ground worship leader, who died on April 28th of a heart attack at the age of 51. A question Kishore always asked others:

"What is your God sighting this week?"

Many members of Pender, other churches, friends, relatives and colleagues came together to celebrate his life. Kishore shared his faith and love boldly with everyone he met; and Pender was blessed by his help in launching our Common Ground Service many years ago.
So many answered prayers this past week! Pender has an amazing, dedicated group of "prayer warriors" who lift up our Church family and loved ones in prayer. What a blessing to know others are uniting in prayer for us in our times of need. (If you would like to be a part of our prayer team, please let Joyce know.)
---
God moments from the week of May 2, 2019


Our Pender Hill Preschool put on a wonderful Spring Show for our preschool families. Our Sanctuary was FILLED with JOY as our students belted out the songs they learned this year. Lots of families from our Church and community gathered together in our Sanctuary. Everyone left with a smile on their face and joy in their heart! What a wonderful preschool we have at Pender!
Our Spring Women's Boutique was a huge success in so many ways! The best part was the joy, laughter and fun experienced by all those from our church and community who worked hard together throughout the week. All of the customers were warmly greeted and made to feel at home here at our church, as they shopped and conversed with the body of Christ here at Pender. Well done, good and faithful servants! (Oh, and they raised over $5,000 to support missions both locally and across the world!)
Praise the Lord! Our Easter Offering amounted to almost $14,000 and will support: an Africa University student ($6,000); with the remainder divided evenly between: Chris Atwood Foundation, Western Fairfax Christian Ministries, Stephen's Children and Justice for our Neighbors.



"

Each one must give as he has decided in his heart, not reluctantly or under compulsion, for God loves a cheerful giver."

(2 Corinthians 9:7)
We have a new member of our church family -- have you seen him? "Gus" the goose! He's been seen hanging around our parking lot. Please be nice to him -- we think he's lost his partner!